With the enhancement in mind, LinkedIn offers its existing and new premium members with all new set of functionality that allows you to add customized LinkedIn background photo to your profile. With this new feature you can make your profile more visible and presentable to the employers and other internet users. However, right now this privilege is available only to the premium account holders with LinkedIn. The photo- centric redesign with LinkedIn offers larger photo area for profile and lets you add your own LinkedIn background photo images to profile and stand out in the crowd.
With This New Feature You Can:
Make your profile presentable: By adding customized LinkedIn background photo to your profile you can make your profile visually pleasing and presentable. The picture you add will make you look distinguished and larger photo area allows you to reach the employers easily. You can simply add your own images, Inspiring Quote,corporate logos as your header image or even upload your stunning group and individual photos as LinkedIn Background Photo images.
Appearance and connection: LinkedIn also offers gallery of images for you to choose for your profile background. You can choose an image which relates most to your profession. This way you can connect your profile to your profession which is very handy for the out lookers.
How To Add/Change LinkedIn Background Photo? Easy!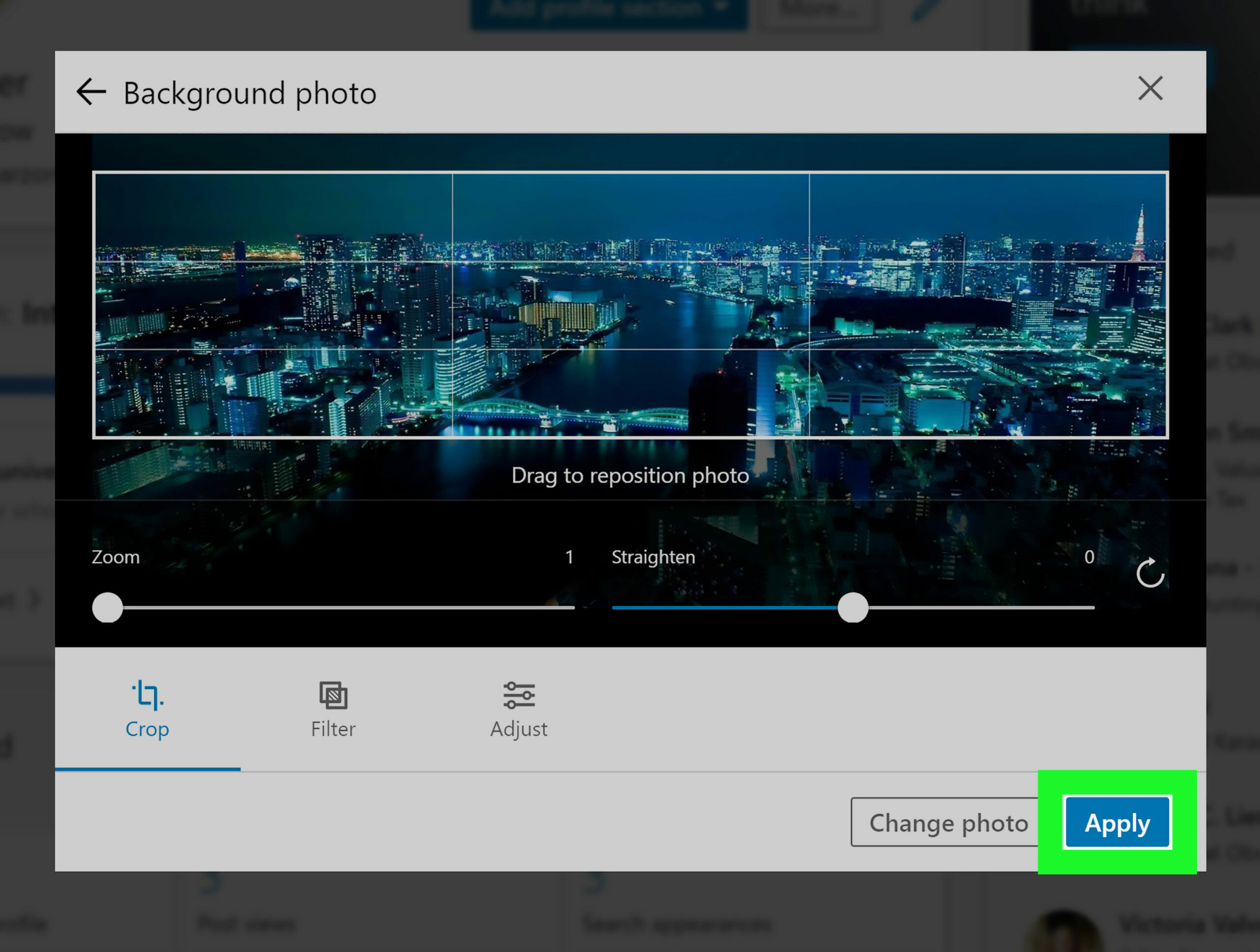 Simple ! With user friendly interface it is very easy for the LinkedIn users to add and change the background Photo images for the profile editing. Simply click on the tab "edit profile" on your profile and go to the option edit background. You will see an array of images in the gallery by clicking on the aforementioned tab. You can choose any image in the gallery for your profile or simply upload your own customized image from your directory. You can choose any image file format like JPG, GIF or PNG.
How To Optimize Your LinkedIn Background Photo
The only reason behind to add your profile to the LinkedIn network is to reach out to the companies and employers for better job prospects. There are set of rules and criteria offered by LinkedIn to make profile view better and rank your profile  for better search ability. LinkedIn Help center offers set of suggestions to its users which help to optimize their LinkedIn Background photo professionally . It is very tiresome to make a professional profile without any professional help. As i said earlier, you need to have active premium subscription to enable this feature. Here is some information about optimize your LinkedIn background photo.
File type – JPG, GIF, or PNG
File size – 4MB maximum
Ideal pixel size – 1400 x 425
Use Your own Photos or Royalty free stock images for background ( No copyrights images)
Add your Favorite quotes or Tagline to inspire your network / connection
DO NOT use large images with lot's of Texts, tagline
Make sure you have enabled " LinkedIn Premium " Option from your profile.
Share your timeline Images with your connections through social media or use any social Automation app's like buffer,onlywire,socialmotus,etc..
However, LinkedIn also offers you expert suggestions which you can incorporate in your profile details for better view ability. With this feature, you can are available to the members who are not in your professional network. The connections out of your network can see your profile and contact you. In this way, you can open up the possibilities to be found by the employers outside your connections.
" Two New Users Join LinkedIn Every Second "
LinkedIn while introducing photo background for the LinkedIn users mentioned in a post that the feature is for the professionals who are looking for their career to the next level. The main motivation behind the redesigning was to ensure that LinkedIn networks grow out of boundaries and millions of users get its benefits. The new and existing premium subscriptions will get all the above-mentioned LinkedIn features at reduced and new rates. There are continuous efforts on the side of LinkedIn to provide competitive edge to the users and offer ambitious professionals a platform where they can reach to the next level of their business.
I hope my " LinkedIn Background Photo Tips"  will help you for optimize your profile professionally. If you are a premium linkedIn user it's time for share your strategies.
---