From the way we network with people to the way we gather our information, we're steadily moving everything online. And there is no exception for shopping as well.
In recent decades, online shopping becomes a multibillion-dollar industry. Millions of people around the globe buying goods and services online and amid the COVID-19 pandemic it has increased more than ever before. One of the main reasons why online shopping has grown so much over the past years is the speed and convenience that eCommerce businesses are able to provide to their customers.
If you've got an eCommerce business, or are interested in starting an online store for your business then it's important to know the data behind eCommerce. Data is incredible, with it, you can make informed strategic decisions for your eCommerce business that will pay dividends in the future.
So, in this article, I've rounded up the most amazing eCommerce statistics that will help you build a strategic plan for your eCommerce business. Let's get started, shall we?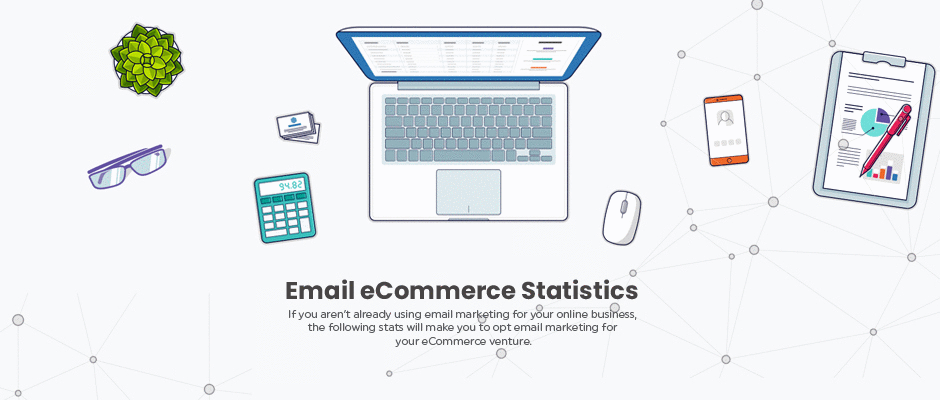 Here's a quick menu of what you're going to acquire from this article: 
General eCommerce Statistics
Shopping Cart eCommerce Statistics
Email eCommerce Statistics
Social Media eCommerce Statistics
Mobile eCommerce Statistics
Essential Facts about Ecommerce Websites in 2020
Let's begin with some interesting facts about eCommerce websites to give you an idea of how big the industry actually is.
Approximately there are 12 million to 24 million eCommerce sites across the world, with more and more new sites being created every single day. Even eCommerce seems like a competitive market, lots of eCommerce sites sell more than $1,000/year, so there are tons of opportunities for growth.
People all over the globe understand the benefits of eCommerce, hence eCommerce sites are continuously on the rise. Based on the Invesp research, the countries with the leading average eCommerce revenue per shopper are:
As per BELVG statistics by gender, the difference between the percentage of female and male shoppers are:
So, now you have an idea about the penetrating growth of the eCommerce industry, let's take a look at the important eCommerce statistics in 2020. Buckle up!
Fast-Forwarding eCommerce Statistics for 2020
 1. General eCommerce Statistics
Ecommerce is thriving vigorously that by 2021, eCommerce is expected to generate $4.5 trillion revenue in sales per year. And according to the below eCommerce Statistics, the future of selling products online seems bright.
Inviqa stats tell that 59% of Millennials will go to Amazon first for their online shopping, making online retail as Amazon Era.
In Nasdaq stats, they mentioned that by 2040, nearly 95% of all purchases will be through eCommerce.
According to the Content Marketing Institute, 61% of online consumers in the United States have made their purchases based on recommendations from blogs.
According to CNBCstatement, in 2017 44% of all US eCommerce sales happened on Amazon.
Based on OptinMonster stats 93.5% of the world's internet users have purchased products online
According to UPS, 55% of online shoppers tell their family and friends when they aren't satisfied with a product or company.
According to Drift, around 50% of people prefer to purchase something from a website's chatbot using conversational marketing.
GeoMarketing stats tell that 76% of people like to go to a physical store for their holiday shopping.
According to Venture Harbour, Multi-step forms in WordPress can lead to 300% more conversions.
Based on BigCommerce data, the eCommerce industry is growing by 23% each year, yet 46% of American small businesses still don't have a website for their businesses.
UPS data says that 32% of online shoppers own at least one connected home device.
According to Invesp, only 2.86% of eCommerce website visits convert into a purchase.
Walker Sands stats says that In the US, 2 in 5 consumers (41%) receive 1-2 packages from Amazon per week and that increases to 50% for consumers ages 18-25, and 57% for consumers ages 26-35.
KPMG stated that the main reason for people to prefer online shopping is that they're able to shop at all hours of the day.
OptinMonster stats suggested that in the last year businesses have lost $756 billion because of poor eCommerce personalization.
Amex research found that 6 out of 10 American shoppers use self-service tools for their concerns including websites (24%), mobile apps (14%), voice response systems, and VoIP (13%) or online live chat (12%).
Nielsen stated that worldwide, 57% of online shoppers buy from retailers who are overseas.
According to Kinsta around the globe, credit cards are the most preferred method of payment, being used in 53% of transactions, followed by digital payment systems at 43%, and debit cards at 38%.
Based on the State of Conversion Optimization Report 68% of small businesses don't have a structured or documented conversion rate optimization (CRO) strategy.
According to Practical eCommerce, mobile shopping hit $2 billion for the first time on Cyber Monday in 2017.
B2XPartners report suggested that 69% of B2B businesses say they expect to stop printing catalogs within 5 years.
Absolunet stated that Amazon is making an AI-based, real-time product recommendation engine available to sellers who use the AWS console.
 2. Shopping Cart eCommerce Statistics
An online shopping cart is the last step before customers make their final purchase. And shopping cart is where a lot of actions happen for your customers since it's an important stage of your eCommerce sales funnel. As an eCommerce, you're well aware that shopping cart abandonment hurts your eCommerce business bottom line. So, have a look at the below eCommerce Statistics to improve your Shopping Cart.
 3. Email eCommerce Statistics
The email has the highest ROI compared to other digital marketing campaigns, so, using email marketing for your eCommerce business is essential. Email is a wonderful tool to generate leads and nurture a good relationship with your customers. If you aren't already using email marketing for your online business, the following stats will make you to opt for email marketing for your eCommerce venture.
 4.Social Media eCommerce Statistics
If you want to see a huge boost in your eCommerce profits, you need to include social media in your digital marketing strategy. You love it or not social media is one of the best ways to make more money online and grow your eCommerce site. The eCommerce statistics below will explain to you why social media deserves your attention.
nChannel stats say that 25% of US shoppers consult social media before buying a gift for their family and friends.
According to BigCommerce, on average eCommerce sites publish 4.55 posts a week on their Facebook page.
Kinsta stats tell that 74% of consumers rely on their social networks to make purchasing decisions.
BigCommerce data stated that online stores with a social media presence have an average of 32% more sales opportunities than those that don't.
According to DreamGrow stats, the number of marketers sharing video content on LinkedIn is set to rise to 65% in 2021.
eMarketer data suggested that worldwide ad spending on Facebook and Instagram combined will reach nearly $95 billion annually in 2021.
Based on Shopify data 85% of orders from social media sites come from Facebook.
Neil Patel stated that social media posts with photos get 53% more Likes, 104% more comments, and 84% higher click-through rates.
According to Locowise, 75% of Instagram users have taken an action, such as visiting a website, after looking at an Instagram advertising post.
According to Neil Patel, Social media posts with 80 characters or less get 66% more engagement.
Shopify statistics say that the average order value for customers referred from Instagram is $65.00, followed by Facebook ($55), Twitter ($46), and YouTube ($38).
 5. Mobile eCommerce Statistics
If you want to run a successful eCommerce business, you should do mobile optimization for your eCommerce website. If you think mCommerce is not a big deal, you'd be surprised you'd be interested to know that 67% of users like to do window shopping for fun on their smartphones. That's why improving your site's mobile usage can help you to catch those potential shoppers. And the following eCommerce statistics give you a better idea of the importance of mCommerce.
According to OuterBox, 40% of all online purchases made during the holiday season are done on smartphones.
Statista statistics revealed that 93% of Millennials have compared online deals using a mobile device.
Based on Invesp data 32% of shoppers changed their minds about purchasing items after checking out the product information on their mobile devices within a physical store.
KPMG stats suggested that 65% of consumers look up price comparisons on mobile while in a physical store.
According to Marketing Land Data, Conversion rates from mobile apps are 3x higher than mobile websites.
Based on Statista stats 82% of Internet users in the United States have used a mobile device to shop online.
According to Google, 73% of consumers will switch from a poorly designed mobile site to one that makes purchasing easier.
Invesp stats tell that 53% of smartphone and tablet owners will shop on company-specific apps.
According to Flurry Analytics, 90% of the time spent on mobile devices is spent on apps.
Google stated that people who have a negative experience in your mobile store are 62% less likely to purchase from you in the future.
According to CopyBlogger Making CTA buttons can create a 45% boost in clicks.
Based on Practical eCommerce stats, sales from mCommerce on both Black Friday and Cyber Monday in 2018 were more than $2 billion, breaking the previous records set the year before.
Google stats revealed that if page loading times change from 1 second to 3 seconds, bounce rates on mobile sites increase 32%.
According to Adobe, people's friends have the most influence on mobile purchasing decisions over email marketing, online ads, or Facebook.
Major Takeaways from the ECommerce Statistics
Overall revenue of eCommerce is growing rapidly
Nearly half of all online shopping is done through mobile
Most of online consumers love innovative technology
Many shopping cart abandonment is preventable.
Social media is a major digital strategy to boost eCommerce revenue
Conclusion
Here you have the whole bunch of stats! Hopefully, these eCommerce statistics offer you a snapshot of the current state of the eCommerce industry. Undoubtedly 2020 is an exciting time for eCommerce. And, now you have a better idea to approach your eCommerce and have the statistics to level up your game on the online market.
Is there anything else you'd like to know about eCommerce statistics and wish was added in this post? Let me know them in the comments below!