Google allows entities to claim their own Knowledge Graph Panel and become the authoritative owners and editors of the results within the Knowledge Panel.
Making themselves stand out on Google search results is the topmost goal for many businesses. Especially for those businesses who solely run on digital marketplaces. You've likely to noticed Google's Knowledge Graph Panel on the right-hand side of your search screen. But have you ever considered how to get that Knowledge Panel for yourself?
Here's how you can claim your Knowledge Panel
In this guide, you'll learn:
What Google's Knowledge Graph Panel is
Structure of the Knowledge Graph Panel
How it influences search results and SEO
How to claim your Knowledge Graph Panel
How to get into Google's Knowledge Graph Panel?
How to nourish the Knowledge Graph Panel for long-term success
What is Google's Knowledge Graph Panel?
Google's Knowledge Graph Panels are information boxes that display on the Google SERP results when the user searches for an entity which can be tangible elements like people, places, and organizations, or intangible elements like colors, concepts, and feelings.
Google's Knowledge Graph Panel Launched in May 2012, it's a system designed to understand facts about entities and the relationships between entities. It's used to power the traditional SERP results. The Knowledge Graph Panel gathers information from a variety of different sources and Wikipedia is the most commonly cited source in Knowledge Graph Panel. When the information in the sources changes, Knowledge Graph Panel gets updated automatically.
The type of information displayed within a Knowledge Graph Panel can vary. Below is an example of a Knowledge Panel on a desktop.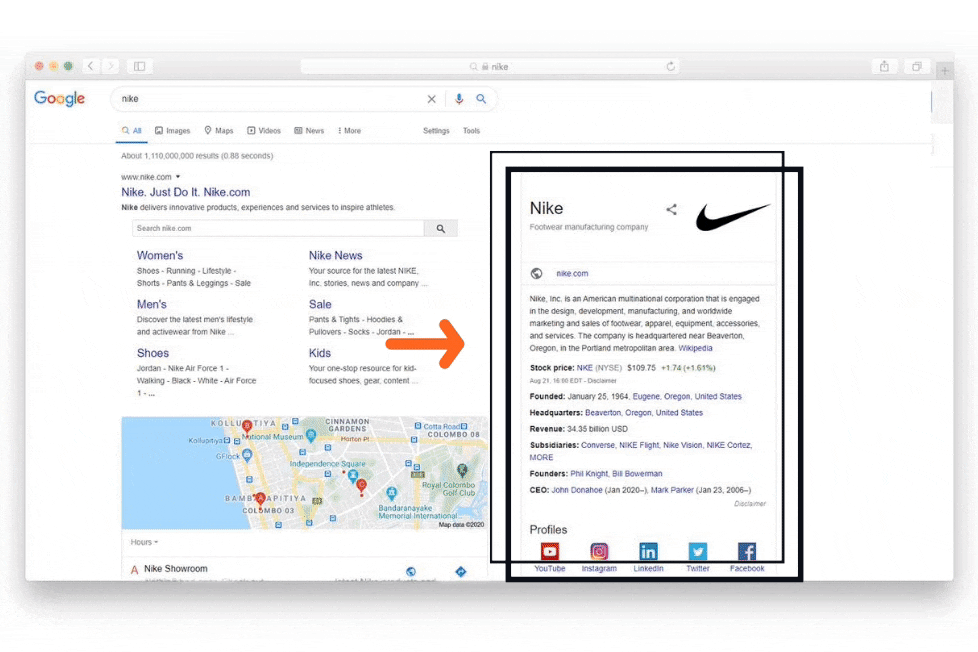 Structure of the Knowledge Graph Panel
Google's knowledge graph Panel is made up of several elements which are found on the right-hand side of the search engine. The size of the panel varies depending on the amount of information available. As standard, the panel will feature:
A collection of images related to the subject, person, or business
A sub-categorization of the information
A link to websites or apps on which the service/business/content is 'available on
A short description of the subject
Information about the location and other relevant details, as well as a 'did you know in some cases
Details of popular products or content
Social media profiles
A 'people also search for' section

This data may differ based on the purpose of the page. As well as the quantity of information available. However, this is the basic structure for Google knowledge graph panels.
How Does Google's Knowledge Graph Panel Influence Search Results and SEO?
On the whole, the Knowledge Graph Panel is a positive thing for both users and SEOs as users get more relevant search results for the queries, and SEOs get more traffic to the deserving content.
Let see how does Knowledge Graph Panel influences search results and SEO for better and worse.

✅ Google better understands search query
When users search their queries, Google can use links as quality signals to return the best content from its index. However, links are great for evaluating the quality of a page, but not its relevance to the search query. Because people don't always search in the same way, they describe things in different ways.
This is where the Knowledge Graph Panel comes in, as Knowledge Panel allows Google to go beyond keywords and return relevant results for the users.
For example, take the search query "little weird guy in lord of the rings":
In spite of the fact that we didn't even mention the name "Gollum", Google still understands what we're looking for and gives us the exact answer.

Not only the relevant results, but Google also shows the connection in the Knowledge Graph Panel and delivers an entity carousel that satisfies our search query.
✅  Google can better accommodate with voice searches.
Understanding voice queries are more important than ever for Google, with Google Voice Assistant now built into more than one billion devices, nearly 70% of search requests being stated in natural language.
But, how does the Knowledge Graph Panel help with this?
We all know there's a difference between the way we type search queries and how we actually talk. In this scenario, Knowledge Panel allows Google to recognize the entities and attributes that asked in natural language queries and provides better results.
✅   Increase brand visibility and authority.
In SERP results, Google shows Knowledge Graph data like Knowledge Panels and Knowledge Cards.
That means if you are able to get your brand in the Knowledge Graph Panel, you'll get benefit from more SERP real estate, visibility, and probably it'll increase more authority and trust for your brand amongst searchers.
✅  Fewer clicks on SERP results
According to Rand Fishkin's study held in 2019, more than 50% of search results on Google SERP have no clicks.

Knowledge Graph Panel is part of the reason for it. Because Knowledge Graph helps Google answer more queries directly in the SERP.
Just look at the SERP results for the "What is SEO" query:

If people get all the information from the Knowledge Graph Panel, they aren't clicking on other search results on SERP. So, you stand to get little or no organic traffic, even if you rank at the top. No worries, you can solve this issue by avoiding targeting keywords with low organic click-through rates (CTR).
How to claim your Knowledge Graph Panel?
If already a Knowledge Graph Panel appears for your brand when users search for your brand keywords, you can claim the panel by clicking on the "Claim this Knowledge Panel" button placed at the bottom of the panel.
Here is a guide to claim your Knowledge Graph.
Click on the "Claim this knowledge panel" button at the base of your Knowledge Graph Panel. This will take you to a Google Verification page. The URL for the page has your custom MID number (machine-produced identifier number) which is particular to your brand as an entity.
Click on the "Get Verified" button. Then you will be taken to a page with a list of options to verify that you're the entity. From the given options you should choose one and sign in to finish the verification. Typically, the options will be YouTube, Twitter, and Google Search Console.
When you complete the verification process the "Claim your knowledge panel" button will vanish from the bottom of your Google Knowledge Graph Panel. Now, you will have authoritative editing power on your Knowledge Panel where you can suggest changes. So, if you have wrong information appearing in your Knowledge Panel, now, you have the ability to correct and update it.
How to get into Google's Knowledge Graph Panel?
If there's no Knowledge Graph Panel appears for your brand keywords, that means your business still lacks the reliable information essential for Google to display a Knowledge Graph Panel for your brand.
You can use Knowledge Graph Search API to see how Google views your brand as an entity.
To get a Knowledge Graph Panel to show up for your brand, you need to grow your brand presence within Google's Knowledge Graph. One of the best ways to do that is to establish your brand presence on the platforms and websites like Wikipedia, LinkedIn, Reuters, Bloomberg, and Crunchbase that Google commonly cites within its Knowledge Panels. Having your brand page on these platforms and receiving mentions from these kinds of authoritative websites or publications can help you to "teach" Google about your brand and push your brand towards the critical frame necessary to trigger a Knowledge Panel from Google.
Let's see what are the significant ways to get into the Knowledge Graph Panel.
  ☑️  Get a Wikipedia page for your brand
Here you have noticed that I used the word get rather than create. You can attempt to build your own Wikipedia page, yet you have to adhere to all rules and guidelines of Wikipedia.
The sources you use to specify notability must meet all five criteria presented below; otherwise, Wikipedia moderators may consider the sources are insufficient and make your brand ineligible for a Wikipedia page. If your brand is notable enough for its own Wikipedia page, you can avoid a conflict of interest by submitting sources and requesting an independent editor to create your brand page.

Some people have been able to create Wikipedia pages for their customers or their own brand by becoming autoconfirmed users. Autoconfirmed users can create wiki pages, but to get the autoconfirmed user authority you'll have to pass through some hoops: accounts are considered "autoconfirmed" if they're at least four days old and have made a minimum of 10 edits on the encyclopedia. if you are able to turn into an autoconfirmed user, you can improve the chances of your Wikipedia page gets affirmed by giving verifiable sources and sticking to the creation guidelines of Wikipedia's page.
Plus, I would highly recommend you not trying to find loopholes and shady workarounds because once Wikipedia moderators hit your Wiki page with a penalty, it's really hard to recover.
  ☑️  Create an entry on wikidata.org
Wikidata stores organized information for Wikipedia and other Wikimedia sites. Thus, I highly recommend you start to create a Wikidata entry if you don't yet have any Wikimedia presence.
A huge chunk of Google's Knowledge Graph information depends on Wikidata, therefore having a profile on Wikidata is much more significant than Wikipedia. But, not like Wikipedia, creating a profile on Wikidata is a quite simple and straightforward process. However, you should always obey their rules, particularly the Notability policy.
Check out Wikidata's Help Portal to get an idea of how the platform works.
  ☑️  Step up your PR and backlinks
It's so much easier to be included as an entity in Google's Knowledge Graph Panel if your brand gets discussed on the web.
Mentions from leading newspapers or sites like Forbes, TechCrunch, and etc, will reveal to Google that you may represent a prominent entity. So doing press releases for your brand and building links on the popular sites will speed up your way to get your brand into Knowledge Graph Panel. 
  ☑️   Add schema markup on your website
Schema.org is the officially suggested markup for structured data. it's altogether a different topic, so I'll simply point out a few key things that may help your brand to get into Google's Knowledge Graph.
Make sure to use at least the name, logo, URL, and sameAs properties
Add all your social media profiles and probably Wikidata and Wikipedia pages as your sameAs reference
5) Create a Google My Business profile
If you run a physical business, having a GMB profile is essential. It helps you to increase your brand's visibility and authority in both Google Maps and Google search because it provides you a branded local listing that looks like the Knowledge Panel.

But, pursuing a Google My Business doesn't ensure consideration in the Knowledge Graph. I looked for the most famous restaurants around Sri Lanka in the Knowledge Graph API and not many of them were listed as entities.
However, offering Google with structured data in your GMB profile may build your opportunity of being added to the Knowledge Graph. Just make sure to add the same details (name, address, telephone number, and so on.) on your business website and social media profiles.
06) Nourish your Knowledge Panel for long-term success
When you've earned or claimed a Knowledge Graph Panel, Google will offer you more authority over the data that displays within the Knowledge Graph.
So, frequent updates and maintenance are required to guarantee your Knowledge Panel's accuracy. Google has been known to change data in Knowledge Panels based on the sources that feed the Knowledge Graph.
You can suggest changes to the knowledge panel by offering feedback via the gray "Feedback" link at the bottom of a Knowledge Panel. When suggesting edits or information removals, just make sure to follow Google's official documentation.
Conclusion
Knowledge Graph Panels and entities have been with us for quite some time and they will become more and more important in the future. And, Google is already on its process to "entity-first indexing." So, you should make sure you're doing everything you can to claim your knowledge panel and provide your customers with all the information they need today.
If you have any questions or remarks about this interesting topic, feel free to ping me in the comments!